About Me
Bryan
About Me, and my wonder woman Coralie.
60 years of married bliss and still counting!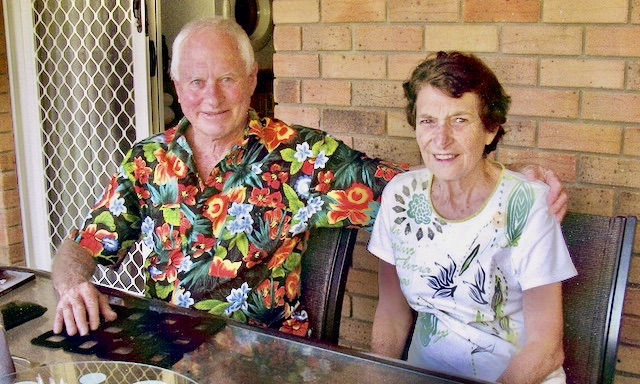 About Us
Bryan here with you.
My life grows with love, gratitude, appreciation and no regrets supported by my wonder woman wife. Gift wrapped Diamond Anniversary in April 2022.
I'm proudly a romantic. I have two songs by Irene Kral that beautifully express this.
She is one of the unknown jazz great vocals of all time. The emotional impact of her voice in the song is staggering.
About Me and Coralie's
Eureka Moment!


About Us:
What jumped out at me was a Eureka moment!
My wonder woman wife Coralie and I celebrated our Diamond Anniversary in April 2022, eclipsing love, gratitude, appreciation and no regrets. A recipe for positive ageing.
I have created a website to create a pathway for happiness and well-being, echoing George Vaillant's (Harvard psychiatrist) quote, coming to his conclusion after a thirty-year longest-running study of the well-being of human flourishing reduced to just five words.
"Happiness is love-full stop".
A series of Why Not's kicked in!
I launched https://www.inspire2serve.com
And inspirational achievements in studying masterclasses to becoming a Positive Psychology Practitioner.
Then, a third, Why Not, transpose our sixty years of experience bundling joys, heartaches, and life's dramas.
A whole bottle of highs and lows of an emotional rollercoaster that makes us human beings!
To help empower seniors to take advantage of their volcano of unique experiences and rekindle their passions and dreams that they may have left dangling on the back burner for far too long!
There are no parallels to experiences seasoned and honed over the years. We, seniors, own this!
My love of learning of Positive Ageing, Positive Psychology and Positive Solutions, and when I integrated these three Ps an empowering potential transformation was so beneficial for most people for the here and now, and spiralling to a inspirational legacy automatically passed on the loved one's generation if they chose to action this wisdom!
Achieved Certifications:
APA certificate-Life Navigation Program-A Science and Practice-Based Positive Psychology Curriculum. https://positivepsychology.com
https://courses.solutionfocused.net/certificates/ksfdq22gq2
A S I C- ABN 33821284170 Positive Psychology Practitioner
Diplomas in Counselling and Positive Psychology.
I couldn't help sneak a photo of where we lived in Lacala Bay Suva Fiji.
Aptly naming it the 'Sunset of Possibilities'
Kishore did wonders with his camera!
What If?
I build a website that was a natural translation of those magical moments of living we are experiencing into my studies and qualifications that confirmed by evidence and research of a rejoycing synergy between myself and others that want experience positive ageing.
I remember the delightful DVD experience, Diana Krall's Live In Paris concert, where the exchange of admiring glances between her and band members and the rapport extended to rapture's audience.
🙌That's synergy!
An Epic
Departure 🌄
A clear departure from revisiting saturated horror stories, at last, using our strengths, values and beliefs as the building blocks to override traumas crashing down on us inappropriately!                                         We all have crisis points in our lives. Mine was learning difficulties surrounded by anxiety attacks. In my late twenties.
 I overcome these demons by participating in self-improvement courses and some great mentors I reached out to.
As I have found, and there is little doubt you will also find my integration of Positive Ageing, Positive Psychology and Positive Solutions (aka Solution-Focused Therapy) 

The three Ps is this robust program, the epic life changer that provides the pathway for you to meet your hopes and desires.
My website pages are designed and evolving for you to be reflective and assess your stages of positive ageing, and feedback from me if necessary?
About Us
Proud Moment💎
I have every reason to be proud following the ladder of positive ageing as husband and wife; we walk the talk celebrating Diamond Anniversary in April 2022, creating a legacy of marriage guidance for others that want to achieve similar milestones of happiness and wellbeing.
There are many components to our happiness and the following has always been with us.
 Labradors have given us unconditional love ever since we got one for our first wedding present 1962, and have remained so to this present day as (2022)
Tau and Loloma expressing unconditional love.
Sadly Loloma died in her sleep on 17 November 2023
She was with of 15 years.
Values and Beliefs.
I honour my parents for giving me these strong foundations.
The gratitude, appreciation, how to cope with life's challenges, love and happiness, and vulnerabilities all go towards being human.
As a married couple, how we complemented each other, helping these values and beliefs maintain a healthy momentum.
I continue to combine mental and physical fitness through my love of learning and regular workouts at the gym.
My passion for music and nature helps to add a welcome balance to the joy of living!
I desire to carry the above as a legacy for future generations.
Now, listen to Veronica Swift- a beautiful and exciting  voice that will send shivers down your spine!
Enough about me!
Inspire2Serve.Com
It is designed to serve you in achieving positive outcomes for you!
I am in my mid-eighties, and naturally enough, focusing on seniors who want to age positively.