Late Adulthood
Advantages
Late Adulthood Advantages exploding in the following real-life example of what happens when  Positive Communities escalate a nation!🌞

---
Sun setting on Suva harbour. I lived here when these pioneers were creating a positive community. I was unaware an evolutionary impact it was going to have and  has on the Fijian community to this present day. Catching the sunset of possibilities!.
Late Adulthood Advantages, excitingly illustrated by a true example!
The following narrative had explosive consequences of how this individual inspired and attracted many others to reciprocate and create a positive community.
Latehood Advantages multiplied significantly with others that help develop the crusade for the benefit of the Fiji community.
Physical capital, an injection of funds, has a used by date, whereas Social Capital emotional and inspirational for others to participate with legacy momentum!
Late Adulthood Advantages , or Middle Adulthood, you are in a privileged position:
• You are in a unique privileged opportunity to be generative,
• The instigator of  social changes, and the all important relationship builders.
• Legacy creator,
• Guiding influences for the next generation.
• The following person I knew personally, unpacks this! (Doc Hemming)
Late Adulthood Advantages inspirationally illustrated by these two men!
Enter a great proponent, Dr George Hemming, an unlikely bedfellow partner. Doc Hemming combined his established church ministerial duties with being a medical doctor. John P Bayly, had a radical views of religion. 
None of his funds would benefit churches. However, they were tensile in strength and united for the welfare of the underprivileged! 

Doc Hemming was also affectionately known as 'Father' to any race or creed. He epitomised cross-cultural and religious harmony. 
Although the medical and welfare clinic they established had the opening and closing hours, Doc Hemming didn't!
Latehood Advantages, the good doctor didn't humbly see them advantages but his calling to give advantages to others, and expect nothing in return!
 He would see patients at his home at Suva Point, at nearly anytime after hours.
 The doctor was known for visiting patients on foot, as some of the illegal 'squatters lived slum-like conditions squashed together in deep gullies without roads. 
Photos graphically show the living conditions. This sketched history provides robust and fearless advocacy of these two tireless men; for the wellbeing of the underprivileged people of Fiji.
 My family and I lived within walking distance from the Hemming home.
 Surprisingly we weren't aware of the Bayly Trust Community impacting this sector of society. 
Adding to this, we lived next door the church the excellent doctor helped build with working bees. 
Doc Hemming also was Anglican Minister for this St Lukes church. His seven-minute sermons captivated the congregation. 
Pictured below: When you combine this quality with his uncanny diagnostic skills, marvelled throughout Fiji. 
There's going to be a definite hint the constitution embodied the Bayly Trust's governance, is going to show a shining light of what constitutes a positive community! 
Late Adulthood Advantages are the very fabric of the positive community illustrated.


    1. Here is the focus: Disadvantaged People regardless of class or creed. 
    2.   Medical treatment, means-tested fees.
            3.   Accommodation assisted.
            4.   Education basic and advanced scholarships. 
            5.   Recreation for fun and health.
            6.   Real Estate & Financial Investments. 
            7.   The Corporate Charter demonstrates good governance. 
The Core modules of Positive Psychology indicated that the trustees' Emotion showed positive trust and participated in engagement; however, meanings were on the light side of good collaboration and broadcasting communication to the public.
They have addressed this.
I am going to the nerve centre, which is the JPB Medical and Welfare Clinic.
 I remember Doc Hemming publicised reputation working as a doctor there.
 He was known affectionately as 'father' to all races and creeds of people. 
The Doc's work didn't stop there, after-hours visits, to those who couldn't come to the clinic. 
Helping repair their housing. 
Some were slum dwellers. 
Education to children of the poor assisted, and those leading to higher education scholarships. 
Free counselling and personal development is a recent enhancement. 
Encouragement to participate in sport for entertainment and health. 
Dissecting the above functions into (i) improving and (t) transformative measures.
Medical and welfare I'd class as (i) and moving from primary education to advancing to receiving a trade or university qualification with a move from an (i) to (t).
 JP Bayly Trust  has enjoyed 66 year track record (1954-2020)
Recent Transformations:
I am now turning the spotlights on transforming insights.
 Koroipita the brainchild of Peter Drysdale. Translated to English, the 'Village of Peter'
 A transformative model town,
 built for the disadvantaged families.
 A common dream of the founder John P Bayly. Houses built hurricane-proof standards!
• We have fully serviced village rental $1.28 per day. 
• Each resident is obliged to have a backyard garden for vegetables. 
• The design enhances self-stain-ability and higher living standards from these ex-slum dwellers. "That's transformative."
• Shops and small businesses owned and operated by residents.
JP Bayly newsletter, which also caught my eye was about a girl that became a scholarship recipient, awarded by JPB. 
She lived under extreme poverty, yet achieved her Bachelor of Ed. and built a house for her family and a successful career. 
My take on this, tell her story to schools where there are disadvantaged children! 
Late Adulthood Advantages
Graphic Photos!
Doc Hemming, my mentor of an extraordinary human being!
Late Adulthood Advantages, exemplified with such greatness!
Photo may be faded, but his contribution the Fijian society will never fade! The Fijian Farewell Song (Isa Lei) is an apt tribute to George Hemming, (below)
Doc Hemming, St Lukes Church@Suva Point. He and working bees helped this church.
My brother was later married in it. We lived next door.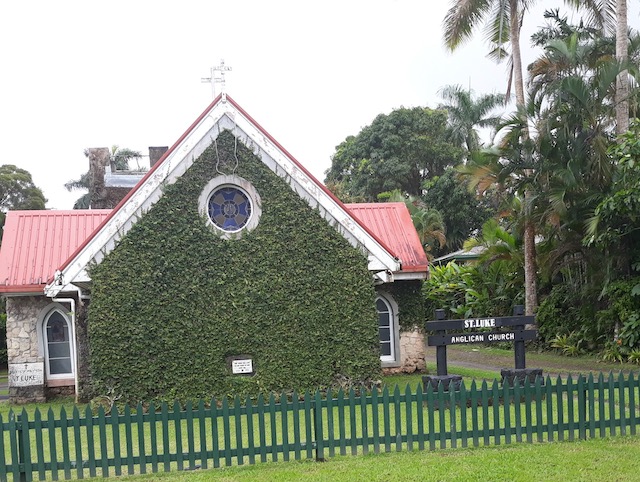 These photos are examples of slum-like conditions that Doc Hemming had to visit patients, on foot in deep gullies,  often in wet and slippery conditions. Suva has a high rainfall throughout the year!